"I can't do this marriage thing anymore. It's impossible!"
Have you ever said that or at least thought it? I have.
It's actually a good thing when I face this frustration. It makes me realize I need help if I am going to be a loving husband. Help can come from various sources: friends, books, seminars, or articles online. In this world of downloads, it would be nice to download all the great marriage information and action steps into each spouse so we could just do all the right things and smile!
But having the right information is not enough to change us. We also need the will to act — the strength to make good choices and to have a loving attitude daily. The good news is that God offers us both the wisdom and the power to live selflessly in our marriage every single day. Everyone can do this!
But first we need to take an honest look at our spiritual condition. Which diagram below best represents your spiritual life?
1. Person Without Christ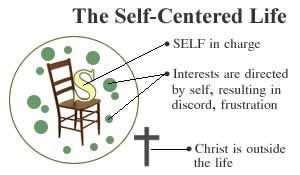 2. Person With Christ-Directing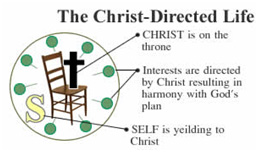 3. Person With Christ but Self-Directing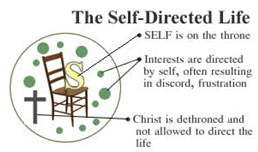 I identify with the second and third circles because Christ is in my life. But many times it is the third diagram that represents my life…
I trust in my own efforts, not in God's power to live life. I lose sight of God's forgiveness, love, and power. This sends me on an erratic, downward spiritual spiral. I really want to do what is right, but do not have the power to pull it off. Life can be so very frustrating and my marriage suffers.
Some or all of the following traits characterize me when I do not fully trust God with my marriage or any other area of my life: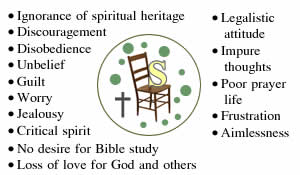 A few of these characteristics jump out at me: worry, guilt, impure thoughts. They are like a warning light on the dash of my car; they warn me that there are issues that need attention in my life.
I have come to understand that Jesus intended something very different. Jesus said, "I came that they might have life, and might have it abundantly" (John 10:10).
He makes abundance possible through my relationship with Him. "I am the vine, you are the branches; he who abides in Me, and I in him, he bears much fruit; for apart from Me you can do nothing" (John 15:5). This relationship produces changes in my character through the power of His Spirit.
"But the fruit of the spirit is love, joy, peace, patience, kindness, goodness, faithfulness, gentleness, self-control; against such things there is no law" (Galatians 5:22, 23).
Some spiritual traits which result from trusting God are: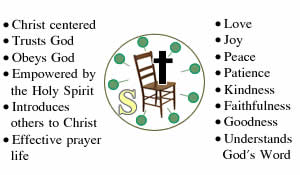 The degree to which these traits are manifested in my life depends on the extent to which I trust the Lord with every detail of my life, and upon my maturity in Christ. A person who is only beginning to understand the ministry of the Holy Spirit should not be discouraged. They may not be as fruitful as more mature Christians who have known and experienced this truth for a longer period.
We can take advantage of God's resources in life. This starts with understanding that Jesus promised an abundant and fruitful life, which is a result of being filled (directed and empowered) by the Holy Spirit, not self effort. The Spirit-filled life is Christ empowering our lives through the power of the Holy Spirit in us. There is so much in my life and marriage that God can improve upon through His power!
I become a Christian through the ministry of the Holy Spirit, according to John 3:1-8. From the moment of spiritual birth, I have been indwelt by the Holy Spirit at all times. Though I have the Holy Spirit inside of me, I have not been filled (directed and empowered) by the Holy Spirit nearly as much as I'd like. So I miss out on God's power in my life and marriage.
One of the great discoveries of my life is that I can be filled with the Holy Spirit by faith and can then experience the abundant and productive life which Christ promised.
These simple steps have helped me to apply the filling of the Holy Spirit. They are:
A sincere desire to be directed and empowered by the Holy Spirit (Matthew 5:6; John 7:37-39).
Confessing sins
By faith thanking God that He has forgiven all of my sins – past, present and future – because Christ died for me (Colossians 2:13-15; Hebrews 10:1-17)
Offering every area of my life to God (Romans 12:1-2)
By faith claiming the fullness of the Holy Spirit, according to:
His command — Be filled with the Spirit. "And do not get drunk with wine, for that is dissipation, but be filled with the Spirit" (Ephesians 5:18).
His promise — He will always answer when we pray according to His will. "And this is the confidence which we have before Him, that, if we ask anything according to His will, He hears us. And if we know that He hears us in whatever we ask, we know that we have the requests which we have asked of Him" (1 John 5:14-15).
Prayer and Faith — Faith can be expressed through prayer. We are filled with the Holy Spirit by faith alone. Prayer is one way of expressing your faith. The following is a suggested prayer:
"Dear Father, I need You. I acknowledge that I have been directing my own life and that, as a result, I have sinned against You. I thank You that You have forgiven my sins through Christ's death on the cross for me. I now invite Christ to again take His place on the throne of my life. Fill me with the Holy Spirit as You commanded me to be filled, and as You promised in Your Word that You would do if I asked in faith. I now thank You for directing my life and for filling me with the Holy Spirit. Amen."
Does this prayer express the desire of your heart? If so, pray and trust God to fill you with the Holy Spirit right now. You can be sure He WILL answer based on His command and promise. Because it is a command to be filled by the Holy Spirit we can be sure it is His will. God's promise is if we ask anything according to his will he will do it!
This faith step repeated often has helped me so much. I can now download from the perfect source any time! This will definitely help your marriage too. It will also impact all other areas of your life! If you prayed this prayer, we would love to hear about it!
If you feel like the clutter and the distractions of the world are making it hard to stay spiritually centred on Jesus, attending a FamilyLife Weekend Getaway Marriage Conference with your spouse is a great way to recalibrate your lives and marriage on Jesus.